Penzion POHLEDNIČKA
Hotel POHLEDNIČKA is proud of its spectacular view of the Giant Mountains, the Jizera Mountains and Bohemian Paradise. It is located in a beautiful Krkonoše (Giant Mountains) countryside, about 1 km far Benecko village at an altitude of 750 metres above the sea. Because of location and equipment is guesthouse suitable for summer and winter recreation as well. Not only for families with children, but also for various sports teams or school ski lessons or school trips.
There are 2-4 bed rooms with total capacity of 56 beds. Some of the rooms are equipped with a bathroom. Sanitary facilities are shared for the rest of the rooms on each floor.
Meals are offered (possibly) in the form of half board. Of course a bar offers huge selection of soft and alcoholic drinks.
You can use according to the season:
Social TV room
Sauna
Outdoor trampoline
Football field
Small outdoor pool
Playground, football, volleyball
The 250m long ski lift POMA and the modified ski slope –piste qualification:
-250m "red"
-500m "blue" slopes.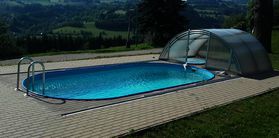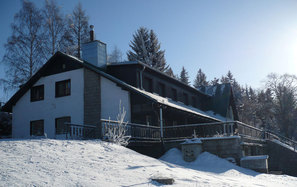 ATTENTION!
We remind our guests that they can not come by most navigations (GPS) through Horní Štěpanice. In winter, this road is more/less impassable to drive.
Diversion: Hrabačov - direction Benecko - Benecko, around the hotel Skalka to the left (passage forbidden) and then 1.5 km straight (do not turn right at a single junction!) Our parking is based above guesthouse. Please leave your cars here. You may not be able to climp back up to the hill due to snow and ice .